BISS Ch Korrandulla Cheers at Quasar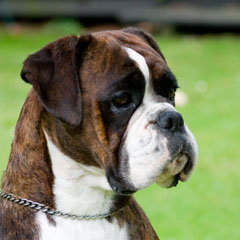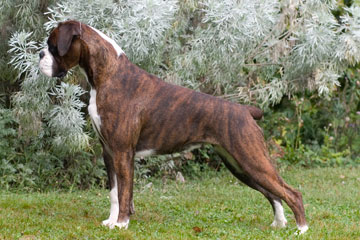 Korrandulla Scotch Wik X Korrandulla Wai Not Cheer
When I saw Cheers' Mother it was love at first sight. Unfortunately I was unsuccessful convincing her owners to sell her to me so I ordered a puppy and Cheers came to Quasar.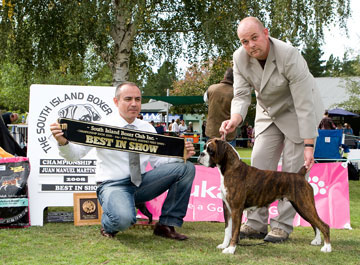 SIBC 51st Champ Show 30th March 2008
Juan Manuel Martinez Perez - Spain
Best In Specialty Show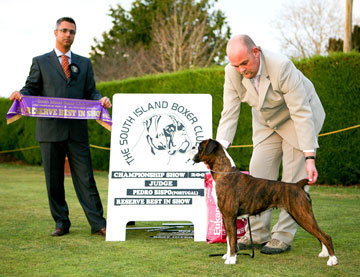 SIBC 52nd Champ Show 14th June 2008
Pedro Bispo - Portugal- Boxers Von Bispus- FCI Judge
Reserve Best In Show
Elegant and feminine. Very good head with very good proportions, good chin,
good stop, very good expression, dark brown eyes, natural ears in right
position. Very good top line, almost square body, excellent chest, very good
shoulders, very good angulations front and rear. Very good movement.
See Cheers' Progeny

Ch Quasar Slur Ya Words
Ch Quasar Drunk & Disorderly
Quasar Bella Figlia del Amore (AI)
Korrandulla Scotch Wik

NZ & Aust Ch Winuwuk Double The Scotch
Eng Ch Blueprint Beern Skittles
Eng Ch Roamaro Scotch mist Of Winuwuk
Ch Korrandulla Kandy Rose
Glenfall Castaway
Korrandulla Rosie Bee
Korrandulla Wai Not Cheer
NZ Ch Cheers for Carinya (Imp UK)
Eng Ch Pop My Cork To Walkon
Carinya Cider With Rosie
Korrandulla Wai Pretend
NZ & Aust Ch Winuwuk Double The Scotch (Imp UK)

Ch Korrandulla Kandy Rose