BISS & BIS Ch Quasar Drunk N' Disorderly (HTO)
Health tests: HTO, Hips, Spine, ARVC DNA - Negative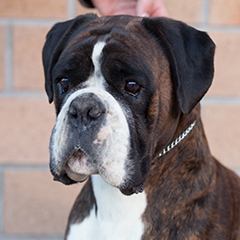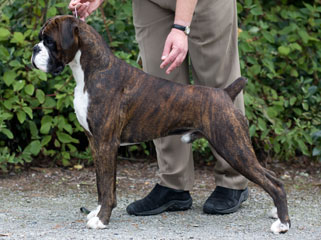 GR Ch Quasar Fair Dinkum x BISS Ch Korrandulla Cheers At Quasar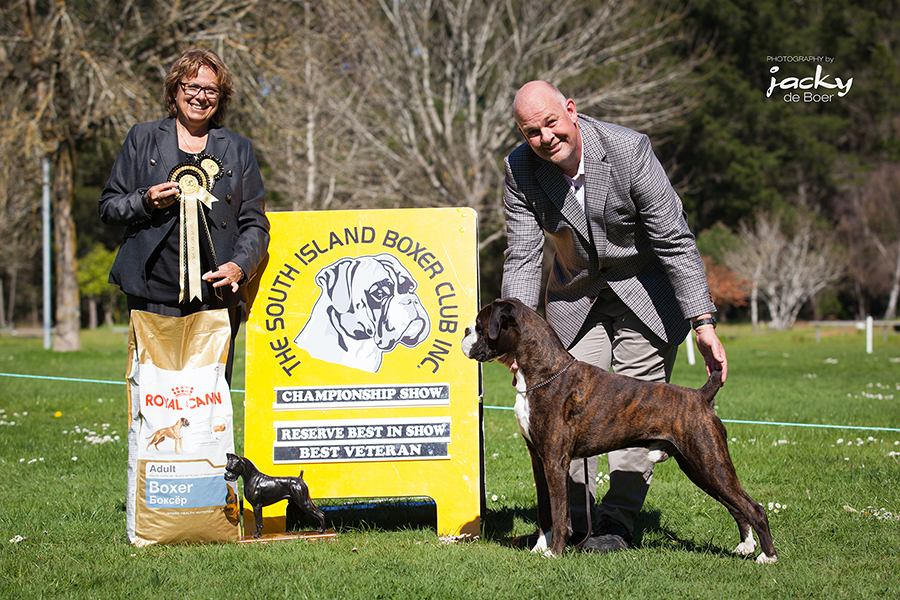 RESERVE BEST IN SHOW
SIBC 63rd Champ Show 2017- Maritha Ostlund-Holmsten – Teamwork Boxers – Sweden

"10 years old. Beautiful veteran male in super condition. Beautiful head with excellent full muzzle. Excellent wide jaws. Could have a little bit more chin. Excellent in his quarters and strong, elegant and powerful movements. A fantastic boxer, full of life.
Dog Challenge – VETERAN IN SHOW - RESERVE BEST IN SHOW "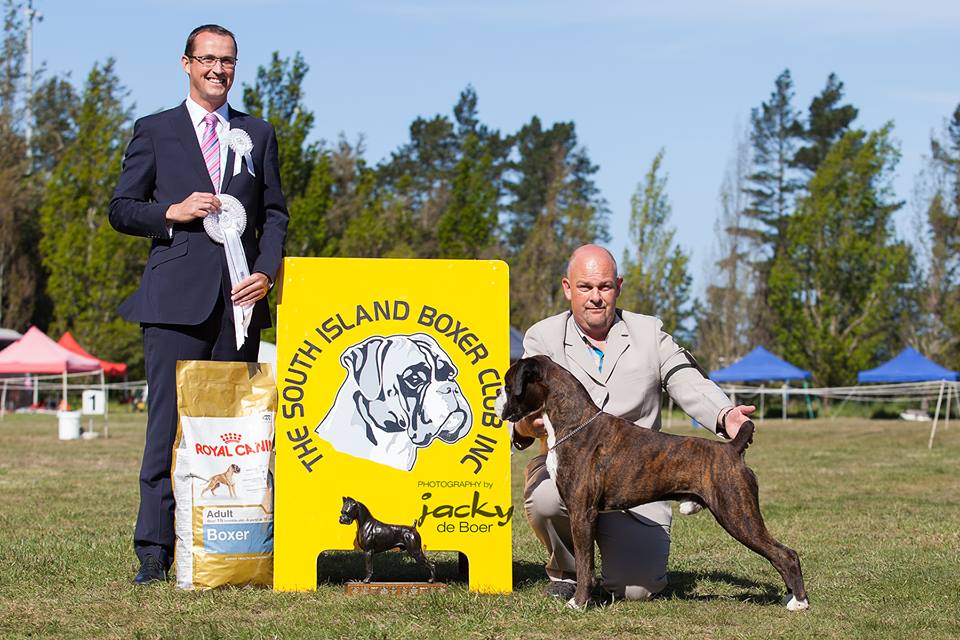 BEST IN SHOW
SIBC 60th Champ Show - Tim Hutchings - Winuwuk Boxers

De Boer's Ch Quasar Drunk 'n' Disorderly the star of the show. Top quality male who epitomises the correct balance between substance and elegance in this breed. Presents a beautifully unexaggerated outline from across the ring which is full of breed type. So well made through the neck and shoulder with front set up well under him with evident forechest. Correct depth of brisket, excellent underline, topline and tailset. Very well made quarters with good second thigh and well let down hocks. Excellent bone and feet. Very typical head of excellent balance and a super pair of eyes which look at you in a way which is unmistakeably Boxer. Fabulous, sensible show temperament which made sure that he showcased his many virtues to the max. I could have watched this dog move all day. It was like watching a well oiled machine, free from drama but full of efficiency and accuracy. He was a clear DCC winner and while in the challenge for BIS I initially thought that I might have gone for the bitch, the dog's total enthusiasm and commitment sealed the deal. A real credit to his owner breeder to have a veteran in such wonderful shape and condition. I loved him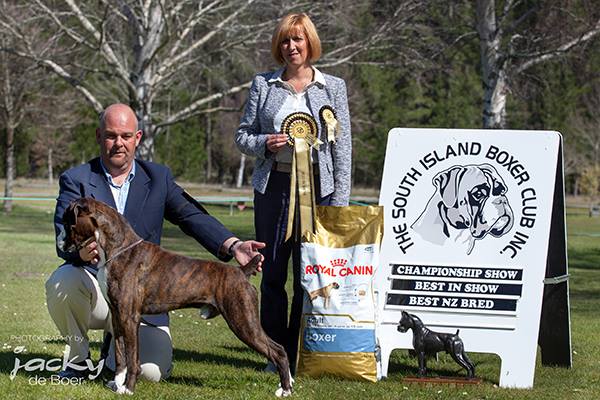 BEST IN SHOW
SIBC 58th Champ Show - Lynn Mair -Glenauld Boxers - Scotland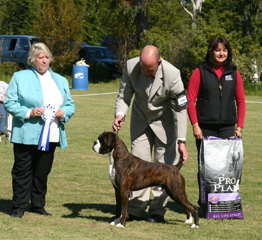 Waimakariri Kennel Assoc 25th Oct 2009 - A Vandersteen
BEST IN SHOW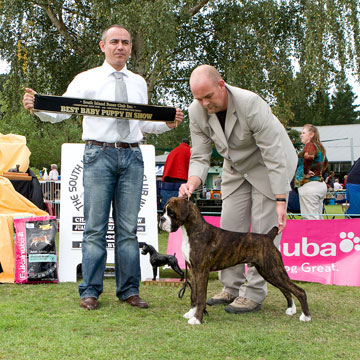 SIBC 51st Champ Show 30th March 2008
Juan Manuel Martinez Perez - Spain
Baby Puppy In show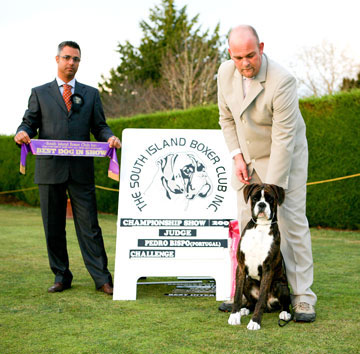 SIBC 52nd Champ Show 14th June 2008
Pedro Bispo - Portugal- Boxers Von Bispus- FCI Judge
Dog Challenge
See CJ's Progeny

BISS Quasar Cause For Applause
Ch Quasar Top Gun
Quasar Under Da Influence