BISS Ch & Aust Ch Galicar Innaquandary (IMP UK) HTO
FROZEN SEMEN AVAILABLE
Health tests Completed: Heart Auscultation 0/6, ARVC DNA Negative,
Hips below breed average, Spine Excellent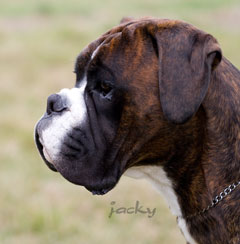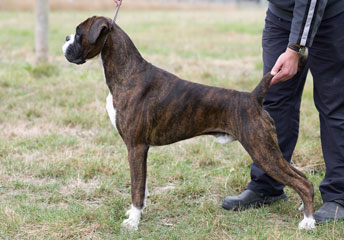 Ch Winuwuk Lust In The Dust x Ch & IR Ch Galicar Indecision

Best In Show
SIBC 54th Champ Show 10th April 2010

Judge Annemarie Maeland - Sweden

Very well constructed with good proportions. Very well upstanding. Excellent
head and expression. Good skull and muzzle. Dark, beautiful eyes. Good body.
Firm top line. Very good hindquarters. Excellent movements.

Monty joined us from Galicar Boxers in the UK in March 2009. Bouncing out of the crate
from his long hall trip like he had just been for a short jaunt in the car.

Nothing has changed since his arrival, he still thinks he is a very important person, and is not fazed by anything, showing he has a bomb proof temperament. He does however have quite a stubborn streak, like most of us a "what's in it for me attitude"
Monty boasts a very exciting pedigree, with his father being CH Winuwuk Lust In The Dust one of the UK's top producing and influential sire's, his dam is the beautiful Ch/IR CH Galicar Indecision.
His pedigree contains some of our favorite UK Boxers.
We believe Monty will be a real asset to our breeding program.
A huge thank you to Jo & Dave for entrusting this little man to us.
See Monty's progeny
BISS Ch Quasar Wot To Do Wot To Do
BISS Ch Sivad Inna Puzzle
BISS Ch Sivad Glamor A Go-Go
Ch Quasar Playing Tricks
BIS Ch Tennille So What's the Gossip
BISS Ch Tennille Just the Tonic
BISS AUST Ch Blueprint Hot Like A Sunrise
Aust Ch Blueprint Kiss Me Katut
Aust CH Zaatom Too Posh To Push
Aust CH Zaatom Innaspell
Eng Ch & IR Ch Blueprint Beern Skittles At Walkon

Jenroy Pop Back To Walkon

Aust Ch Walkon Skittles

Eng Ch Roamaro Scotch Mist Of Winuwk

Ch Wrencliff flying Scotchman Of Winwuk

Jenroy Popsicle For Belmont

Eng Ch & IR Ch Galicar Indecision
Eng Ch & IR Ch Belvern Premenition
Ch Surfstone Hot Property
Boxberry Starstruck At Belvern
Galicar Molly Me Lone
Galicar Loose Boots

Daltamie All Shook Up To Galicar