Quasar Foreign Exchange
ARVC DNA Test - Negative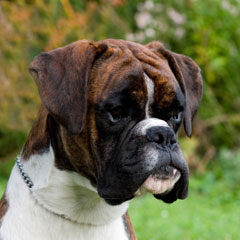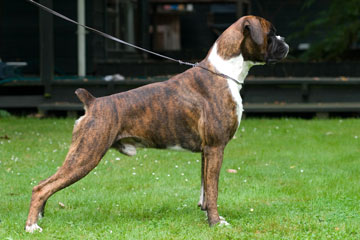 Aust Gr Ch Belvurn Too Hot T'Handle (Imp UK) X Quasar Forget Me Not
Cooper is definitely one of our favourites, we just love his head , everything about him just shouts boxer. Sue Res from Suromar Boxers in Perth came to visit and fell in love with him so he is now living in a life of luxury and delights in being able to spend summer in front of the air con!!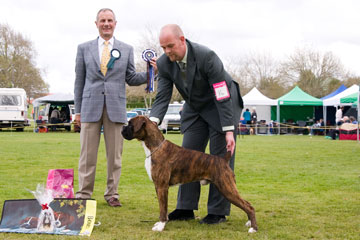 Auckland Boxer Club Show 16/09/06 Walker Miller - Dog CC
Walker Miller - Walkon Boxers – UK
Quasar Foreign Exchange
Br/Wh who caught my eye immediately because of his size and presence without being coarse. Lovely long neck which flows into correct front angulation. Good length of upper arm and strong bone with correct pasterns and feet. Topline slopes well into well angulated and muscled quarters. Head type what I was looking for expressive eyes and when becomes alert does not have too much wrinkle. Good mouth and chin with correct lip placement. This head just shots Boxer at me. Very well handled and presented. Unfortunately lost some of his zip when he came in for BIS Dog CC and BOS. Thank you for bringing this dog under me.